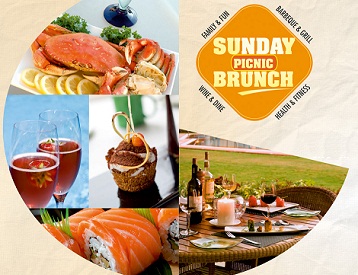 The Sunday Picnic Brunch at The Lalit Ashok creates a perfect blend of delectable food and a fun time to spend with your family. They also allow access to the Tennis court and swimming pool to help you rejuvenate yourself for the week ahead
Sundays are no longer the days when one would put their feet up and laze around. Sundays for Bangaloreans now mean the time to recharge themselves with great food and some good times, spent with your family in a comfortable place.
The Lalit Ashok blends both these choices to offer 'Family & Fun' with a Sunday Picnic Brunch, by the poolside. There are personalised chefs preparing delicacies on grills, live pizza with great toppings. There's also street favourites like Pav bhaji, chaat corners; sushi, greens and a wide range of Indian and western desserts to choose from. Of course, the ever popular Chilli brownie with salted caramola will be served too.
The kids are going to love their time at the picnic brunch. There is an active station with a chocolate fountain and cookie decorations as part of the brunch. Furthermore, there are a number of things to do such as crooner games and access to the play area.
For those who are concerned about their weight, there's a Tennis court and swimming pool where you can burn up the calories you might gain. Of course, there are sugar-free dishes available. For those who are intolerant towards certain types of food, there are organic, gluten-free and lactose-free dishes too.
Price: Rs 1,750 + taxes.