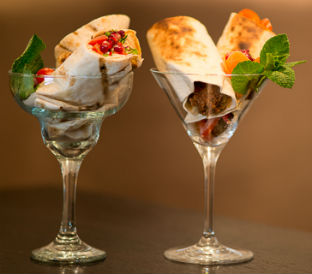 The Gourmet Express is back and this time with the warm aromas and subtle taste of Lebanese cuisine.
Chef Abdul Ghani has been creating delicious Syrian, Lebanese and Middle Eastern dishes for the past 22 years. The Lalit Ashok has invited him to bring his culinary magic to the Gourmet Express table with Sun'ful Lebanese Flavours, a Lebanese food festival.
Made with a rich mix of fresh and healthy ingredients such as olive oil, herbs, spices and vegetables, the festival menu will mirror the culture it hails from. Guests can look forward to authentic Lebanese delicacies like shish tawouk, kibbeh meklien, smake harra, kalamarakia Lebanese, grilled chicken, Arabic mezza, magluba rice, falafel, kofta kebabs and lam mosaka.
The highlight of the festival however is Chef Ghani's signature dishes, Quozi, which is stuffed baby lamb and kunafa, baked vermicelli with cheese, eaten for dessert.
The festival will be held at 24/7 restaurant and bar, till December 10 between 7:30 pm and 11:30 pm.