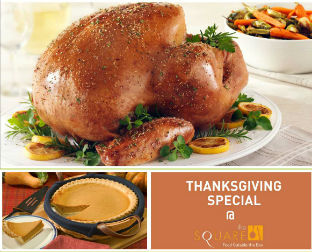 Novotel's The Square invites you to get together with the family and give thanks over a special Thanksgiving dinner.
A host of traditional delicacies make up the Thanksgiving feast. The Square at Novotel will serve all this and more through a dinner buffet on the night of Thanksgiving.
Begin the dinner with a choice of starters and soups like roasted pumpkin soup, roasted butternut squash with apple cider vinaigrette and pumpkin and five spice wontons. The mains follow with dishes like herb roasted turkey stuffing, cranberry sauce, turkey jus, grille pears and apple, jerk spice beef meat loaf with onion jus, maple glazed carrots and Brussels sprouts, zucchini and eggplant wrapped fish with olive tomato sauce as well as special pizzas.
End the holiday meal on a sweet note with home style desserts like pumpkin pie, lemon meringue pie, mini pecan pies, Mediterranean apple tart and dark chocolate dome on hazelnut crunchy.