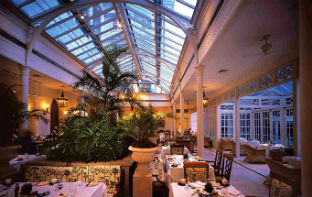 Raj Pavilion at ITC Windsor is a round the clock dining venue that offers both buffet and an a la carte menu. The multi-cuisine restaurant has now introduced a new menu in addition to this. Called 'The Hot Rock', the restaurant claims it will take you back to the Stone Age.
Raj Pavilion is known to serve 'cuisines from the silk and spice route'. Now, with the Hot Rock menu, they would like guests to get a taste of something different, in terms of the menu options as well as the style of presentation.
The Hot Rock menu offers a variety of sizzlers served on hot rock platters. Crafted by Chef Prashant Joseph, the menu includes a selection of meat and seafood, presented on preheated "rocks" alongside which will be an array of rubs and sauces.
The meat section includes spring options like chicken breast, New Zealand lamb chops and steak while the seafood section includes Kerala Tiger Prawns, Norwegian Salmon and Vietnamese Basa.
The mains are served with vegetables and mash on the side. There will also be a variety of rubs served with this like dry parsley lemon, Cajun spice, Thai spice and Mexican. Sauces include wasabi cream, herb butter, mesquite barbecue and jalapeno cream.