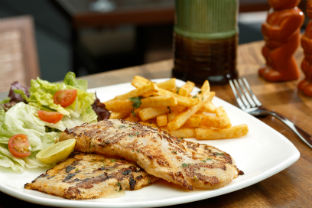 In Hawaii where the Tiki culture prevails, a lu'au is a lavish feast accompanied with entertainment. Known for its Tiki inspired décor and menu, the American based chain Trader Vic's introduces its very first food festival across all outlets in India - The Autumn Lu'au.
Spread across three whole weeks, from September 16 to October 6, guests at the Trader Vic's Mai Tai Lounge can look forward to feasting on an array of grills, which will be available during the festival only.
With appetisers like spicy lemongrass potatoes and tofu, kona vegetable skewers, Bloody Mary prawns and senor's grilled basa to start off this tropical flavoured journey, the main course includes a wide range of both vegetarian and non-vegetarian options. Caribbean Cottage Cheese Steak, harrisa mushroom skewers, Kahuna grilled basa, char grilled harissa and lime chicken are among a few of them.
To complement the food, the sizzling tiki grill fest will also engage guests in an interactive beer workshop that involves not only indulging in premium international beers like Fuller's London Pride, Schneider Weisse, 1906 Reserva Special, Birra Moretti, and more, but also some beer trivia, brewing and food pairing, courtesy of Mai Tai Lounge's association with Yeast India Company (YIC).