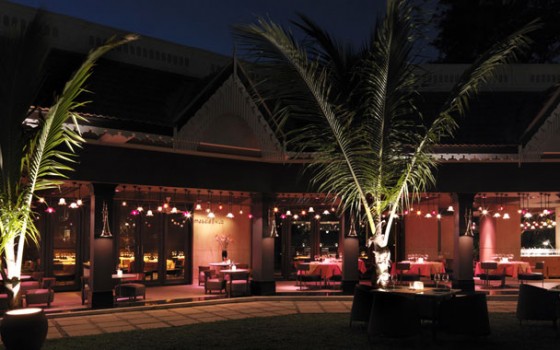 The West End has an edge and they know it. Chef Sandip Narang at The Masala Klub has prepared The Royal Salute promotional menu which is served with some classy 21 year-old scotch whisky. And you would be surprised at how well they go together. The West End, although rooted in tradition, pushes the boundaries with their menus as we know, with the lemongrass rasam, for instance.
The starters have great options like Yam ke Galouti, and Palak Papad ki Kebab, veggies rolled and fried in a papad. The Tandoori Nalli, slow cooked lamb that takes 24 hours to prepare. Between courses guests are served Tamarind Sorbet, made from the 135 year old Tamarind tree, grown in the West End's own award-winning gardens.
The main course complete with more Scotch whisky, has the exotic Nadru aur Singhda, Lotus stem and water chestnut curry, and Murg Khatta Pyaz, chicken with pickled onion. They are served with fragrant biryanis and fluffy breads. Dessert was Gulab Jamun and icy Kulfi.
"We try to keep it all contemporary and also healthy. A lot of olive oil makes sure the food is light, something not easy for North Indian curries," restaurant manager, Ranvijay Singh Bhati told Explocity. The crew also elaborated on how the spice notes in the masala and the whiskey are complimentary of each other. "Blends are often easier to match with food, considering they are inherently complex spirits, unlike single malts that are focussed to having a single flavour," Chef added.
Masala Klub, The Taj West End, Bangalore