For a performer of any discipline, not being able to perform in front of a live audience results in soul crushing emptiness. 
But jazz singer Radha Thomas beat the pandemic blues with the amazing feat of releasing as many as 52 videos in one year — an average of one song per week.
Thomas did everything to make this happen.
From finding musicians that she had never worked with before, to arranging each tune, to arranging the look of the video, directing the sound and video engineers (both of whom are in South America) right down to using walkers, crutches, canes, chairs and upside down stools as rigs, to create an ersatz studio at her home.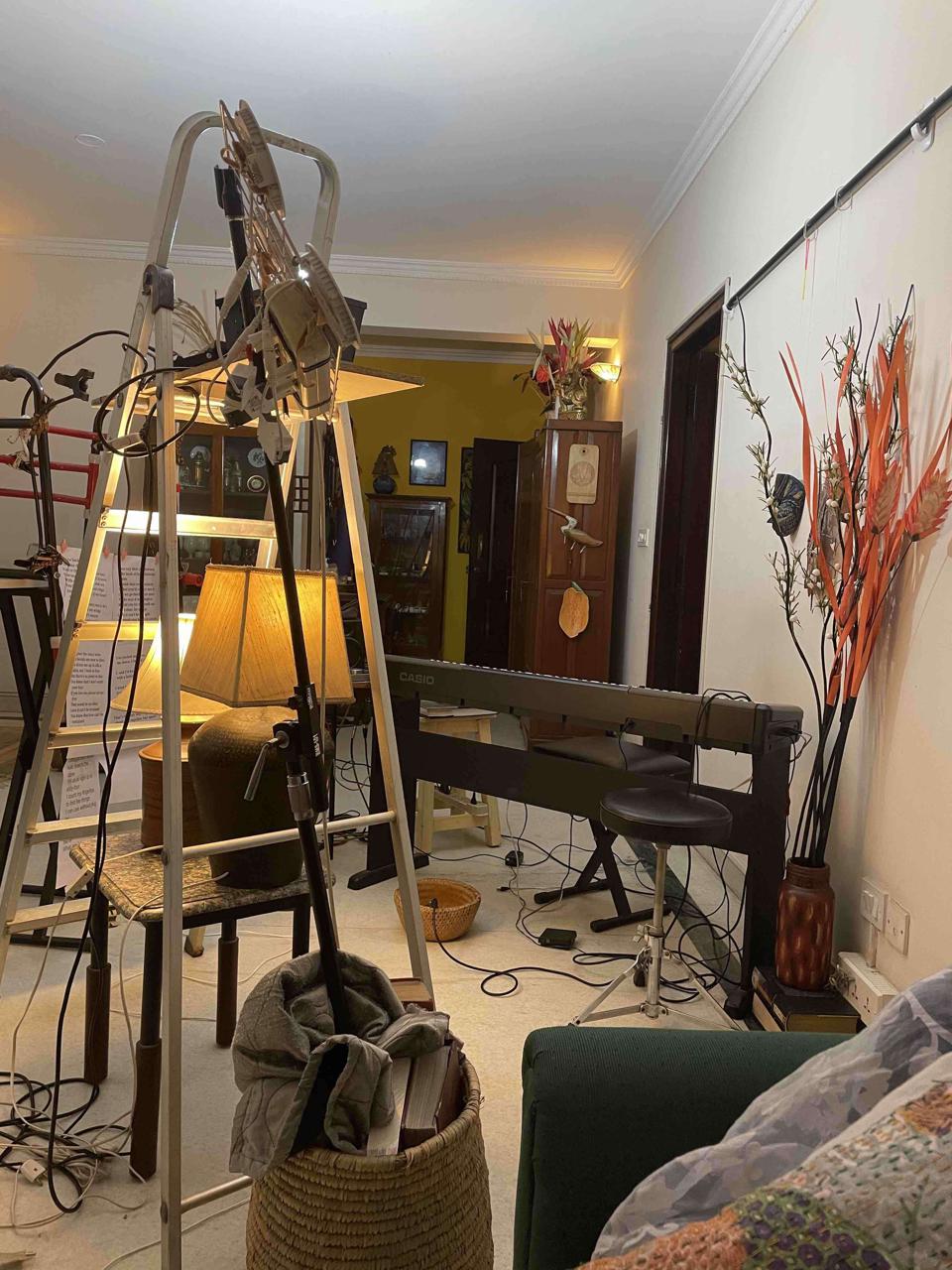 Each video was an exercise in multilateral coalition; and educating fellow musicians on things other than music. 
Jazz musicians devote themselves to their cause because jazz requires a considerable degree of chops; skill, technique, a deep technical knowledge of musical structures and imagination determine how "good" a jazz musician is and how well they can improvise on call.
Video technique is not in any one of their skillsets.
Some of them had no clue how to arrange themselves in a frame. So it fell to Thomas — who had become fascinated with making videos — to send them scans of scribbles or instructing them verbally on just about everything.
And then, she had to arrange the music.
Arranging a jazz tune means deciding how the song starts i.e., the intro, who plays the solos and for what length, what the tempo and the groove (the rhythmic pattern) will be, how the accompanists will play behind her, and finally, how the song will end.
And then, recording the song, with musicians each recording their parts remotely was another challenge.
In classical music — or any other music where each musician is told exactly what to play — the song has been scripted.
Jazz is music played by improvising live. The musicians always listen to each other and feed off the other to play accents, fill-ins and such.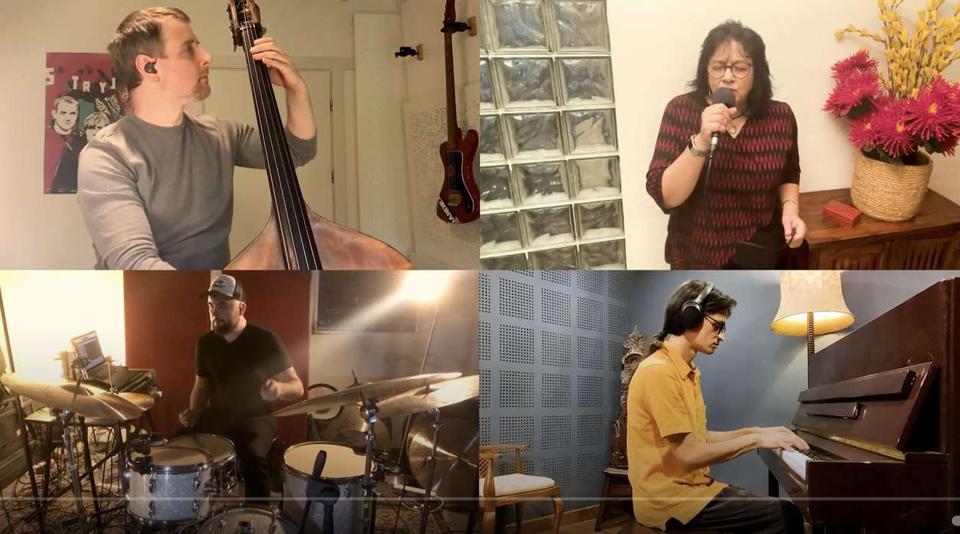 The worst challenge for a jazz musician is to play without the ability to listen to the other musicians in the song and yet sound credible. This is particularly true when accompanying a singer — in jazz, musicians support and complement what the singer does live, such as accents and emphasis.
So Thomas had to find a way to construct each song by providing each musician the ability to play as though they were live and recording in the same room.
Layer by layer, she traded scratch recordings of herself and of the rhythm section instruments, together with soloists' approaches and by a process of collaboration over WhatsApp, voice mails and Zoom, each song came alive.
Once recorded individually, each musician's audio and video recordings had to be synchronized perfectly with the others' recordings.
Thomas found her collaborators in the form of both audio and video engineers based in Buenos Aires in Argentina. Some were done in India and Russia.
Radha Thomas found musicians from many countries to accompany her, including from the USA, UK, Russia, Italy, Japan, Dubai, Estonia, Poland, Argentina, Brazil, Iceland and India, variously playing guitar, drums, bass, vibraphone, trumpet and piano. 
The line up once included a konnakol beatboxer that Radha Thomas used for her original composition, "Would I Lie".
In another video, she accompanied herself, using the voice in parts to replace the bass and rhythm with the video in triptych. 

Having built a lifetime of singing jazz to enthralled audiences in the capital of jazz, New York City — Radha Thomas, now divides her time between New York and Bangalore, India.
Thomas had been particularly busy of late and her recent work included launching an album with her principal musical collaborator, the talented pianist Aman Mahajan. Bangalorean jazz enthusiasts were treated to concerts in venues around the city including Bangalore International Centre and Jagriti. 
And then the pandemic happened and all venues were shut down.
Thomas found herself marooned at home in Bangalore.
At first, the novelty of the lockdown — in a time when the city of Bangalore was not suffering any particular, visible consequence of Covid — was quirky. Thomas even wrote a tune about how loud the birds had become. But as the pandemic wore everyone down, her compositions took a darker theme with one that talked about how she missed seeing her son and daughter-in-law, who live in New York City.
Still in demand for appearances, she did live performances online by event organisers, House Concerts and the newspaper, Times Of India.
"Performing live to an iPhone camera has its charms," Radha Thomas told Explocity, "but it's unnerving when you finish a song with a flourish to a deafening silence, instead of applause."
While the bleakness of the pandemic depressed many, it triggered a defiant response in Thomas. Refusing to be kept down, she fought the odds and decided to release songs as videos.
One thing led to another and Radha Thomas threw herself into this new world, almost wide-eyed in learning new things about making these videos. The harder the task, the more she rose to it.
The result? The amazing feat of single-handedly creating and releasing 52 videos in one year.
The first video that went up was in June 2020, Thelonius Monk's famous tune, "Round Midnight" as a guitar-voice duo with Bangalore-based jazz guitarist Ramjee Chandran.
The 52nd video that went up in June 2021, was a jazz standard, "Fools Rush In" as a piano-voice duo with New York based pianist, Tomoko Ohno Farnham. 
Only fools, Radha Thomas wrote in the description of her YouTube video, would rush into a project like this.
Channel: https://www.youtube.com/c/RadhaThomasJazz
THE MUSICIANS AND CREW
| | | |
| --- | --- | --- |
| Name | From | Instrument |
| Akshada Krishnan | Bangalore, India | Piano |
| Alexandre Rosenblat | Buenos Aires, Argentina | Sound mixing |
| Alexandre Vianna | Sao Paulo, Brazil | Piano |
| Aman Mahajan | Bangalore, India | Piano |
| Bartosz Mikolaj Nazaruk | Warsaw, Poland | Drums |
| Ben Amstutz | Boston, MA, USA | Drums |
| Edgars Rugajs | Tallinn, Estonia | Guitar |
| Fer | Buenos Aires, Argentina | Drums |
| Franco Donadio | Buenos Aires, Argentina | Guitar |
| Jake Naugle | Mapleton, UT, USA | Drums |
| Joe Giglio | New York, NY, USA | Guitar |
| Larry Corban | New York, NY, USA | Guitar |
| Lautaro Luna Binder | Buenos Aires, Argentina | Video Editing |
| Maciek Szczycinski | Ustanow, Poland | Bass |
| Mauro Sereno | Cavriana, Italy | Bass |
| Michael Molloy | London, England | Piano |
| Morgan Wallbridge | Philadelphia, PA, USA | Vibes |
| Oleg Maximov | Rostov-On-Don, Russia | Guitar |
| Pasha Karchevsky | Novokuznetsk, Russia | Trumpet |
| Pavel Ershov | Moscow, Russia | Guitar |
| Ramjee Chandran | Bangalore, India | Guitar |
| Reduane Ayoub | Dubai, UAE | Guitar |
| Sahil Warsi | Boston, MA, USA | Bass |
| Shivraj Natraj | Bangalore, India | Konnakol / Beatboxing |
| Tomoko Ohno Farnham | Tenafly, NJ, USA | Piano |
THE 52 VIDEOS AND LINKS TO EACH
Angel Eyes jazz standard
Michael Molloy, UK, piano, Mauro Sereno, Italy, bass
https://youtu.be/EMBJeL9c-uk
Autumn Leaves, jazz standard
Mauro Sereno, Italy, bass
https://youtu.be/OLL8c_DSG4c
Bluest Kind of Blue, jazz standard
Franco Donadio, Argentina, guitar
https://youtu.be/RXum8gpNLeE
Body & Soul, jazz standard
Akshada Krishnan, India, piano
https://youtu.be/K5wbQheHoIg
Born To Be Blue, jazz standard
Larry Corban, USA, guitar
https://youtu.be/AG4MXWHjhO0
But Not For Me, vocalese for Chet Baker solo
Edgars Rugajs, Estonia, guitar
https://youtu.be/Seep3OPAsDE
Corona Kinda Crazy, jazz original
Tomoko Ohno Farnham, USA, piano
https://youtu.be/Q-ZKXLqY5I0
Cry Me A River, jazz standard
Pavel Ershov, Russia, guitar
https://youtu.be/G6Ecloktd90
Dance Me To The End Of Love, jazz standard
Michael Molloy, UK, piano | Maciek Szczycinski, Poland, bass
https://youtu.be/qiP-vs1NuH4
Double Rainbow (Chovendo Na Roseira), jazz standard
Franco Donadio, Argentina, guitar
https://youtu.be/10uEcPaDWDs
Fever, solo performance
Radha Thomas, vocals, bass, hand claps
https://youtu.be/2UWx41QyA3U
First Signs Of Ennui, original (with Ryo Kawasaki)
Pavel Ershov, Russia, guitar | Maciek Szczycinski, Poland, bass | Ben Amstutz, USA, drums
https://youtu.be/wdrrq0eg6DU
Fools Rush In, jazz standard
Tomoko Ohno Farnham, USA, piano
https://youtu.be/ynPPxgaoucw
Giant Steps, jazz standard lyrics Radha Thomas
Pavel Ershov, Russia, guitar |Maciek Szczycinski, Poland, bass |Bartosz Mikolaj Nazaruk, Poland, drums
https://youtu.be/SXRUkbzIle0
Good Morning Heartache, jazz standard
Tomoko Ohno Farnham, USA, piano |Mauro Sereno, Italy, bass
https://youtu.be/OTGM5ElwStU
I Fall In Love Too Easily, vocalese Chet Baker solo
Ramjee Chandran, India, guitar
https://youtu.be/lkk_lfiQ5f4
I Hope That One Day I Will See You Again, original
Ramjee Chandran, India, guitar
https://youtu.be/piLyHLZmDzs
I Remember Clifford, jazz standard
Joe Giglio, USA, guitar
https://youtu.be/I7DhqVqCWVs
I think It's Time For You To Go, original
Pasha Karchevsky, Russia, Trumpet |Mauro Sereno, Italy, bass
https://youtu.be/f3L7jY56NA0
I'm A Fool To Want You, jazz standard
Pasha Karchevsky, Russia, Trumpet |Mauro Sereno, Italy, bass
https://youtu.be/ea3-N8_Uxbo
If I Should Lose You, jazz standard
Alexandre Vianna, Brazil, piano
https://youtu.be/h9BFihSS84s
It Could Happen To You, vocalese Chet Baker solo
Ramjee Chandran, India, guitar
https://youtu.be/5rUmz8jzQhg
It Might As Well Be Spring, jazz standard
Morgan Wallbridge, USA, vibes | Mauro Sereno, Italy, bass
https://youtu.be/ZM9PAy661ik
Jailer, original
Aman Mahajan India, piano | Mauro Sereno, Italy, bass | Ben Amstutz, USA, drums
https://youtu.be/7whb5UEUcMM
Just Friends, vocalese Chet Baker solo
Aman Mahajan India, piano | Sahil Warsi, USA, bass
https://youtu.be/njE39prJZBQ
Load Shedding, original: Aman Mahajan | lyrics: Radha Thomas
Aman Mahajan India, piano | Mauro Sereno, Italy, bass |Ben Amstutz, USA, drums
https://youtu.be/cH09WG9RrRo
Lonely In New York, jazz standard
Michael Molloy, UK, piano |  Maciek Szczycinski, Poland, bass
https://youtu.be/G6Ecloktd90
Love Me Do, (Beatles) jazz arr: Radha Thomas
Michael Molloy, UK, piano | Mauro Sereno, Italy, bass
https://youtu.be/dClTdLsXJm4
Love On The Dance Floor, original
Tomoko Ohno Farnham, USA, piano |Maciek Szczycinski, Poland, bass | Jake Naugle, USA, drums
https://youtu.be/88vyGV6HZN8
Menina Moca, latin jazz
Franco Donadio, Argentina, guitar | Mauro Sereno, Italy, bass |Fer, Argentina      drums
https://youtu.be/Xx7xAlZB8Qg
Midnight Sun, jazz standard
Aman Mahajan, India, piano
https://youtu.be/lbGs48VFH1s
My Echo My Shadow and Me (We Three), jazz standard
Alexandre Vianna, Brazil, piano
https://youtu.be/LBPS4Kzl1hk
My Foolish Heart, jazz standard
Tomoko Ohno Farnham, USA, piano
https://youtu.be/HGQetPsbSa4
Peel Me A Grape, jazz standard
Pavel Ershov, Russia, guitar
https://youtu.be/vafK5UdXnYY
Polka Dots & Moonbeams, jazz standard
Mauro Sereno, Italy, bass
https://youtu.be/ISFeY4r8Kxg
Round Midnight, jazz standard
Ramjee Chandran, India, guitar
https://youtu.be/H_uLwU2Ryf8
Snakes Alive, original
Aman Mahajan, India, piano
https://youtu.be/6W-_cK0DJVY
So What, jazz standard
Pavel Ershov, Russia, guitar | Mauro Sereno, Italy, bass
https://youtu.be/DisIS4kSiFs
Stormy Weather, jazz standard
Edgars Rugajs, Estonia, guitar
https://youtu.be/Yv-iY4LYmPo
Summertime, jazz standard, arr: Radha Thomas
Aman Mahajan, India, piano
https://youtu.be/lmAhgglcX1c
That Brew, original
Ramjee Chandran, India, guitar | Tomoko Ohno Farham, USA, piano
https://youtu.be/OxdrGxMBUso
The Birds Outside They're Getting Louder, original
Ramjee Chandran, India, guitar
https://youtu.be/W2Lc6I-SJj8
There Will Never Be Another You, vocalese Chet Baker solo
Oleg Maximov, Russia, guitar
https://youtu.be/PSvo3Zx62pE
Trinkets & Things, original Ryo Kawasaki | Lyrics: Radha Thomas
Tomoko Ohno Farnham, USA, piano |Mauro Sereno, Italy, bass
https://youtu.be/Bd-Abb1TsuA
Tumble, original
Tomoko Ohno Farnham, USA, piano
https://youtu.be/lnKbJjCZcno
Twisted, jazz standard
Mauro Sereno, Italy, bass
https://youtu.be/Av0TN22x-_Q
What Stress, original
Reduane Ayoub, Dubai, guitar
https://youtu.be/u0cd2x6hbTk
Winter Is Here, original Ryo Kawasaki | Lyrics: Radha Thomas
Tomoko Ohno Farnham, USA, piano |Mauro Sereno, Italy, bass |Ben Amstutz, USA, drums
https://youtu.be/CEYyIwfTaEI
Would I Lie For You, original
Shivraj Natraj, Bangalore, Konnakol Beatboxing | Sahil Warsi, USA, bass
https://youtu.be/VT--e099oug
You Don't Know What Love Is, vocalese Chet Baker solo
Michael Molloy, UK, piano | Mauro Sereno, Italy, bass
https://youtu.be/JHLxyTH8K8Q
You Go To My Head, vocalese Chet Baker solo
Aman Mahajan, India, piano | Maciek Szczycinski, Poland, bass | Bartosz Mikolaj Nazaruk, Poland, drums
https://youtu.be/D4xQtakJat8
You've Changed, jazz standard
Aman Mahajan, India, piano | Sahil Warsi, USA, bass
https://youtu.be/88ZcZKRUVHI