Radha Venugopal Nair's toe in the water in the F&B business was called Simply Lunches. She used to send her husband Jaishanker, lunch - in a lunchbox, of course. The office bully one day ate up Jai's lunch. The bully loved it so much, he told all his other colleagues. This led to a demand for more lunchboxes. Before long, Radha was in business. She was selling lunchboxes to over 50 of Jai's colleagues. Even the bully was now paying for the privilege.
Ok, we made up the bit about the bully, but the rest of it is how Nair got into the restaurant business.
Sadly for her, it ended one day when she had a home accident. She was playing with her frisky puppy, lost her moorings and had a nasty fall down a flight of stairs. Bedridden, she decided she would give up on Simply Lunches and study instead, to be a Company Secretary (she was already a graduate of Law). 
But the food business was way too compelling for this entrepreneur. And no sooner than she could stand at a stove, she did. 
Soon, fortuitously, Bangalore designer Anjum Azeez, a pal, suggested that Nair open her cafe in the empty store next door on Ulsoor Road. She launched Cafe Kaara -- an amalgam of the names of her children Karthikeyan and Ragini -- on Ulsoor Road in December 2017. Less than a year later, in September, a scenic location became available on Ulsoor Lake. And here, she launched the bistro, Kaara By The Lake.
It is significant to mention the restaurant's early success. In a very short time, this location has earned the sort of cache to which only older and reputable restaurants can lay claim. Regulars to Kaara include well-known Bangaloreans, some of them who consider themselves part of that privileged tribe of "old Bangaloreans", loosely, those who lived here in or before the 70s. (The later 80s saw the beginning of the large scale migration into the city.)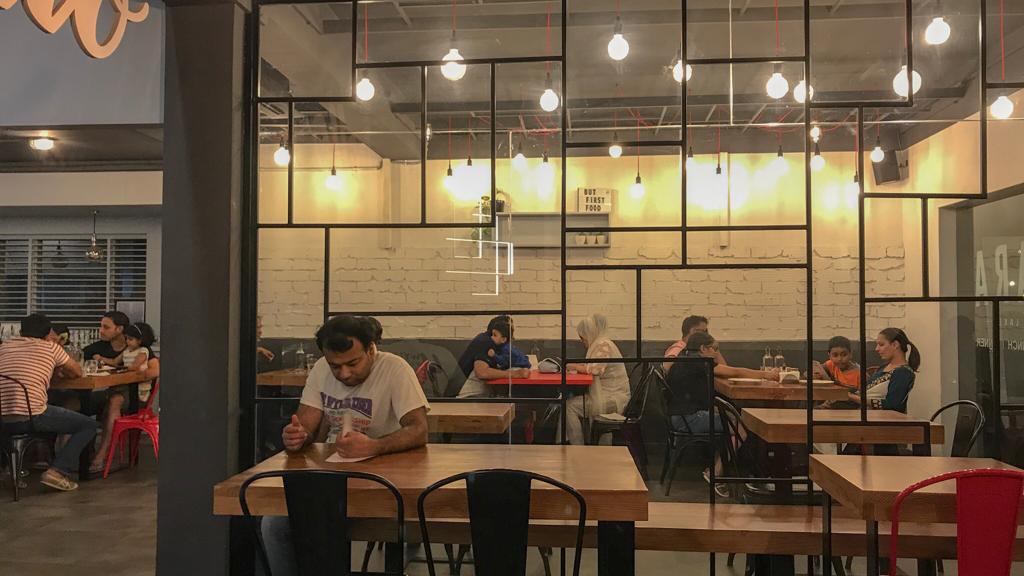 Kaara By The Lake appears to succeed where others did not. There have been previous (unsuccessful) attempts to locate a restaurant on these premises. None of them were able to last. Clearly, Radha Nair found a way to make this bistro stick. 
We asked her why. She did mention that one of the previous cafes located there served only coffee and what she termed "airline food". But we did get the impression that she started the restaurant not on market studies and spreadsheets but on the premise that she likes cooking for people and that the business of food excites her.
To that point, Radha Nair is an ideal hostess. Her feel-good philosophy and rose-tinted POV are refreshing in these cynical times; but more importantly, they lead her to cherish her customers. She remembers most of them and what they order. She knows when one of them comes to Kaara on the all-important first date. She said some have proposed marriage, celebrated business deals and personal milestones here… such tales being the lore of legendary restaurants.
Nair describes Kaara's cuisine as a "combination of Indian, Continental and Italian." Its menu spans an eclectic range from wholesome entrees and decadent desserts (pastas and key lime pies) to the "fruits of millennial mulch and vegan vanity" (phrases a Kaara regular once used to describe these menu items), like green smoothies. According to Nair, whatever is made at Kaara is made with a mother's attention to health (our phrase) -- they are not high in sugar, the ingredients used "are of top quality". 
The prices are reasonable -- a complete meal for two can cost anywhere between Rs.750 and Rs 1000.
There are no plastic straws to be found at Kaara and old Bangaloreans happily join the millennials in saving dolphins; the unspiralling of the paper straws on their lips is a minor inconvenience. The always attentive staff have a spare straw at hand at all times, anyway.
On any day in Kaara By The Lake, jazz plays in the background, unobtrusive "cafe jazz". It complements the sunny, urban chic decor of  the bistro. And then the cafe waiters switch on a smile that you would believe is reserved for you.
Kaara By The Lake is located on Ulsoor Road, here: XJP9+HR