The COVID lockdown caused Rohit Bagaria, founder of Budli.in to shut his operation for the month of April, but with the reopening in May, Bagaria told Explocity that Budli.in has seen uptick in demand.
The reasons are evident. More people now work from home. Students attend classes online. And with the general tendency being cost cutting, people are not buying new and expensive phones. Cheaper second-hand models are good enough. Besides, the increase in dependency on online shopping for basic needs has increased the dependency on smartphones.
The main business of Budli ("change" in Hindi) is to recycle smartphones. Bagaria told Explocity that a large part of the country in the Tier 2, 3 and 4 towns are still migrating from feature phones to smartphones. In the Tier 1 cities people are always looking to upgrade their smartphones. So Budli buys back smartphones from Tier 1 markets and sells them upcountry. Bagaria feels that India has a big market "to bridge the digital divide and reduce e-waste". 
Bagaria calls this "reCommerce". His footprint is vast. "We currently service 25,000 pin codes in India," he said. In this interview, the phrase "bridge the digital divide and reduce e-waste", came up quite often; and this is how Bagaria sees his business.
(For e-waste, other than smartphones, tablets and laptops, Budli has an e-waste bin that you can send your product too. Since this is a small scale operation, they do not pick it up for free. The owner can send their product to the company's office in Koramangala.)
Bagaria is a gadget freak. He says he's passionate about tech, and keeps trying out new gadgets. Finding it a major pain to keep disposing of his used gadgets, Bagaria came upon the idea of Budli.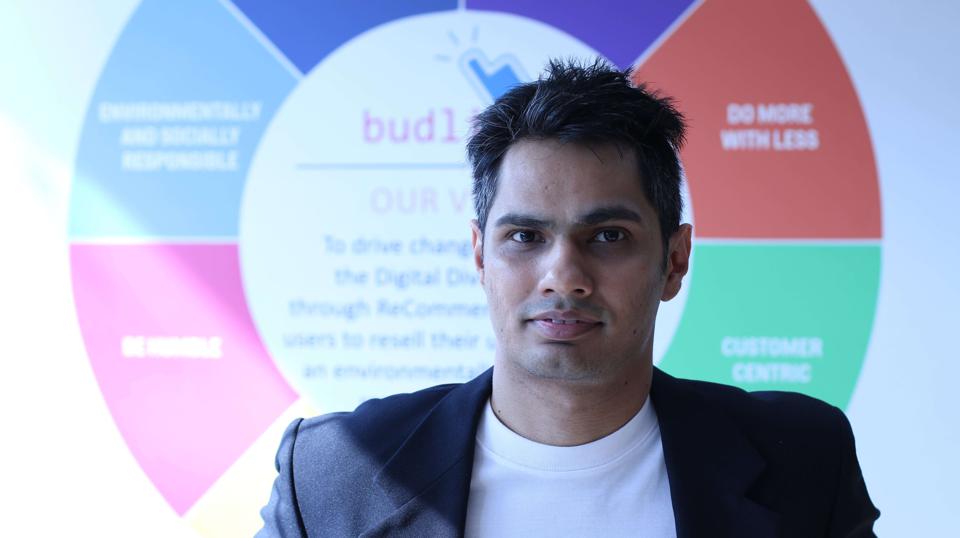 Bagaria, originally from Kolkata, went to UC Berkeley for his graduate degree. "In the US, it is very easy to upgrade. Companies like Dell and Apple offer this service," he said, "but in India, there is hardly a second hand market. If it does exist it is unorganised. People often don't trust second hand products. But India is also a market where many use a cell phone for not more than 12 months before upgrading.
The opportunity exists in India being a deal-seeking country, a reCommerce platform with used products sold with a warranty ought to succeed."
So why should people use Budli.in rather than Amazon and Flipkart's own exchange offers? "The prices fixed by these companies are arbitrary. We validate the product using technology so automatically giving you a much better price for your device," said Bagaria. He also said this process helps them ensure if an item is stolen or not. They do not trade in stolen goods unlike disreputable local markets, where it's difficult to verify authenticity of the product.   
Asked why Bagaria moved to Bangalore from Kolkata to set up his business, Bagaria told Explocity, "There is no city like Bangalore in the country, This being the startup capital creates the best startup ecosystem to be able to scale a business."
When asked what was the main draw for startups in Bangalore, Bagaria said it was talent. "Bangalore is the only city where people will leave a corporate job to join a startup," he said.
He also loves the weather, people and diversity in Bangalore. 
According to him no other Indian city provides this. 
Budli has tied up with NGOs across the country to provide these devices to households. They collect the device from your house free of charge, validate it, event devices that are not in working condition can be picked up, they either fix it or sell it for parts and then distribute it, through their NGO partners to families most in need. Use the link here to contribute: https://budli.in/devicetodream.