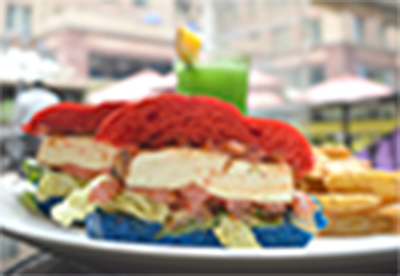 No, it's still too early for the Fourth Of July burger.
So what is the red, white and blue burger then? Is it a Russian burger? Or Australian?
Stop guessing- there are 37 countries with red, white and blue flags. Yes, we checked :)
The answer: it's French. (The other red, white and blue country.)
To commemorate the French Revolution, Cafe Noir at UB CIty has created a red, white and blue burger.
Bastille Day is this week. Bastille Day is actually on 14 July but Bangaloreans can revel in the celebrations until 18 July as Cafe Noir celebrates their La Fete Nationale with a burger festival for a whole week in Bangalore.
Held across all Cafe Noir outlets in Bangalore, the restaurant offers the "art of French living" to Bangaloreans. The highlight is something palpitatingly called "Le Frenchie".
It's a French coloured bread filled with a cottage cheese steak, BBQ sauce, salad, tomato and a bell pepper confit. The burger is priced at Rs 440 plus taxes.
At Cafe Noir, UB City, Phoenix Marketcity and Orion Mall.