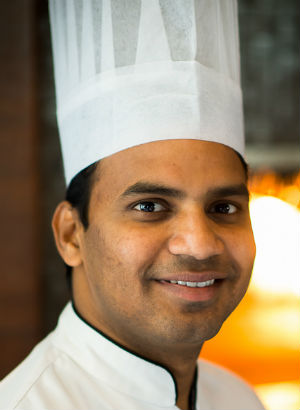 Chef Mahesh Padala
Head Chef, Fairfield by Marriott
How long have you been a chef?
I began my career in the hospitality industry in 2001.
What are your signature dishes?
I enjoy cooking seafood with fresh vegetables. A fresh garden green salad with basil vinaigrette, grilled salmon with wilted greens, pumpkin and fig jam; spinach and ricotta ravioli with fresh tomatoes and olives are some of my signature dishes. My personal favourite is murgh tariwala (home-style chicken curry) served with chapattis.
Who or what inspired you to take up cooking?
I was 18 years old when I decided to take up cooking as a profession. The level of interest has grown over the years. I enjoy this profession because there is much to learn and it gives me the opportunity to make my guests happy. Appreciation by guests encourages me to learn more and explore beyond my limitations.
What has been your most memorable moment or biggest achievement as a chef?
I was awarded the "Rising Star Chef of the Year 2010" by Marriott International across all the Marriott properties in the world. I received this award by none other than Mr. Marriott himself at Bethesda, United States on America
What kind of food do you personally enjoy eating?
I enjoy home cooked food with basic seasoning. However, I prefer to add a few salads to my meals.
Why do you think there aren't many women chef around?
Women are now exploring the hospitality industry as chefs. There are many organizations that prefer women as chefs in their kitchen. The trend has taken a while to come about as women were not open to this opportunity and found cooking within their homes more comfortable. The exotic style of cooking with modern amenities is inspiring women to become chefs.