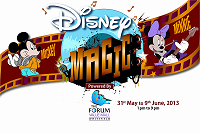 Disney and Forum Value Mall bring 'Disney Magic' to Bangalore this month.
Mickey Mouse, Donald Duck and Goofy fly down to Forum Value Mall to entertain the young at heart this June. The beloved Disney characters from Disneyland Hong Kong will engage in a whole lot of singing, dancing and storytelling on June 8 and 9. Visitors who make a purchase of over Rs. 5000 at the mall will win a free pass and get to have a fun time with the cartoon stars.
The ten-day festival will feature fun activities held at Mickey Mouse & Friends Main Stage, Disney Princess Zone (with princess makeovers and nail art sessions), Disney Pixar Cars Zone (with PS3 video gaming and Disney Pixar RC Championship), Disney Art Attack Zone and Disney Merchandize Zone.
Speaking about the event, S Raghunandhan, CEO, Retail, The Prestige Group said, "Bringing a little 'Disney Magic' to the city of Bangalore is our way of saying thank you to our customers. We look forward to more such events in the future."
"Through Disney Magic, we will provide kids and families in India an opportunity to experience our stories and engage with our characters first hand. We are also adding a bit of local flavour to the event by making Mickey and friends dance to popular Bollywood songs", said Roshini Bakshi, MD, Licensing and Retail, Disney UTV.
Did You Know?
There is only one Mickey Mouse at a time in every Disneyland. It's true of the other Disney characters as well. They dress up in secrecy and it is said that the true identity of the characters are not even known to each other. For all we know, the non-speaking actor underneath the Mickey costume could be a girl. The Disney characters have been copyrighted and shall not be used as trademarks without authorization.