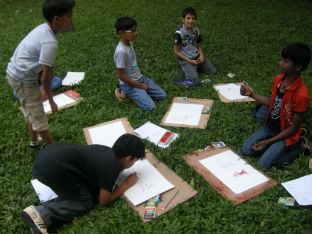 'The World of Rock Art', an exhibition dedicated to studying and celebrating the rock art and forms of ancient times was inaugurated by the National Gallery of Modern Art recently. Done in collaboration with Indira Gandhi National Centre for the Arts and Archaeological Survey of India, the inauguration was held at NGMA last Tuesday. The exhibition will be open for public view from December 4, 2013 to January 3, 2014.
Dr A Sundara, who has served as the head of Department of Archaeology, Museums and Heritage in Govt. of Karnatakawas the Chief Guest for the event and delivered a special lecture on 'Rock Art in Southern India: Neolithic to Early Historical'. Pravin Srivastava (IAS), Director General of ASI, Delhi presided over the programme.
'Impression', a workshop about the rock paintings by people and tribes of the pre-historical ages, was held for 50 students from several schools the next day. "Once they had seen the impressions, they were also asked to paint them on paper for themselves," enthused Mr.Shivanand, the Programme and Exhibition Officer for NGMA. Professor Ravi Korisettar of Karnataka University later captivated the audience with his talk on Southern Indian rock art, excavation and preservation from the Upper Palaeolithic to Mesolithic periods.
Aimed at unravelling the mysteries of primeval rock art, the exhibition promises to attract archaeology enthusiasts from around the city over the month. As the young minds built an energetic ambience around the inaugural event, they are expected to be prospective visitors as well.
National Gallery of Modern Art is located at 49, Palace Road, Bangalore and is open from 10:00 am to 5:00 pm every day except Monday.