After two years of no live events, the Chitra Santhe on Sunday (27 March, 2022) turned out to be an eventful day out. I'd forgotten what it was like to be out in such big crowds. The warm Bangalore summer, plus the crowds led the outing to be quite a tiresome one.
The heat, dust and press of humans did nothing less than contribute to the soul of the city. A gathering of people to support art is, to Explocity, typical of what we believe of Bangalore.
I had visited Chitra Santhe many years ago, maybe it was 2012. I still remember it as being very crowded then. I suppose Bangalore has such a dearth of these types of events that when it happens, the whole city visits. Artists from all over the country bring their art to display. This year there were artists from West Bengal, Orissa, Kerala, Telangana and all parts of Karnataka. 
The road along the Bangalore Golf Club and the Ashok Hotel, and its bylanes are covered with artists, not just proud to display their work, but also hoping to make a few well-deserved and, I'm sure, welcome, bucks. If they get noticed and invited to show in a gallery, that truly means they've arrived. (Read about Bangalore's galleries here and here.)
Bangalore and Chitra Santhe have always been good promoters of arts. The crowds definitely signal that. Unfortunately to make anything popular, there has to be the loudness of a radio partner blaring through the speakers, set up especially for the event. One artist looked visibly distraught while he was trying to negotiate a sale but the RJ on the loudspeaker kept stealing his moment of quiet.  
Speaking of negotiating, there was a clear divide of visitors: one group that thought it morally wrong to negotiate with artists, and the other that wanted to buy art for a good bargain. The important thing is both groups were there to buy the art. I'm sure the artists appreciate that first and foremost.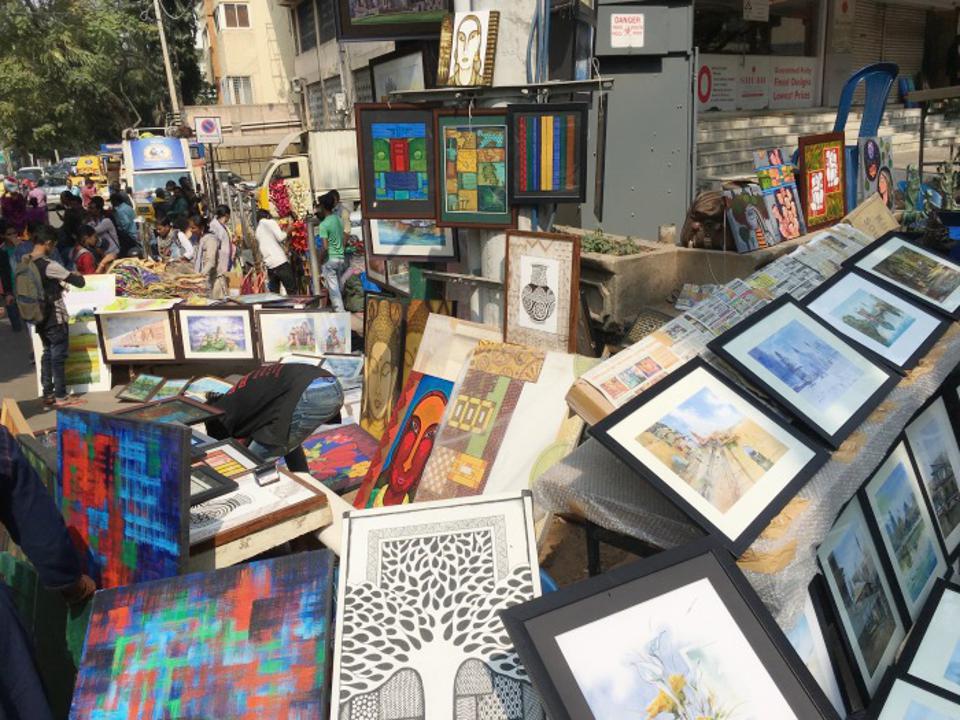 Art, other than the things you hang on your walls, extends to things you wear, home decor, children's toys and such in the complex that houses the Chitrakala Parishath. 
There was a stark contrast between my visit in 2012 and now. The artists have really stepped it up. Or maybe it was my taste in art that has become more mature. The main difference being in 2012 I wasn't seriously looking and now I finally have walls on which to hang the art I bought. 
One artist friend commented that this should be at least a two day affair. Art is the sort of thing one must dream on and then come back the next day to purchase. I'm sure the artists will be happy if the Chitra Santhe is extended. 
The enthusiasm we saw at the Santhe, especially the involvement of younger, and seemingly first-time buyers, has encouraged us to bring you a series of articles on art for the beginner-collector.
Watch this space.