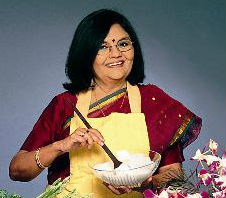 There was Indian cuisine before Tarla Dalal and then after Tarla Dalal. She brought cross cultural flavours and aromas into almost every kitchen in India.
Tarla Dalal, a celebrity chef, cookbook author and host of many cooking shows, passed away on 7 November, Thursday, at the age of 77. Dalal has written over 100 cookbooks and over 3 million copies were sold. She was awarded with the Padma Shri in 2007.
Dalal created a niche in the Indian culinary scene even before television invaded people's living rooms, but with the advent of the tube Dalal became best friends with the Indian housewife and anybody who cared to cook a good vegetarian meal, anywhere.
Tarla Dalal was the Indian palate changer… through her cookbooks and shows; she encouraged the use of coconut in Punjabi food and mustard paste in Tamilian cuisine, she blurred the lines between the kitchens across India. Her contribution to this osmosis across varied cuisines of India is unparalleled.
The first and original masterchef of India. RIP Tarla Dalal.