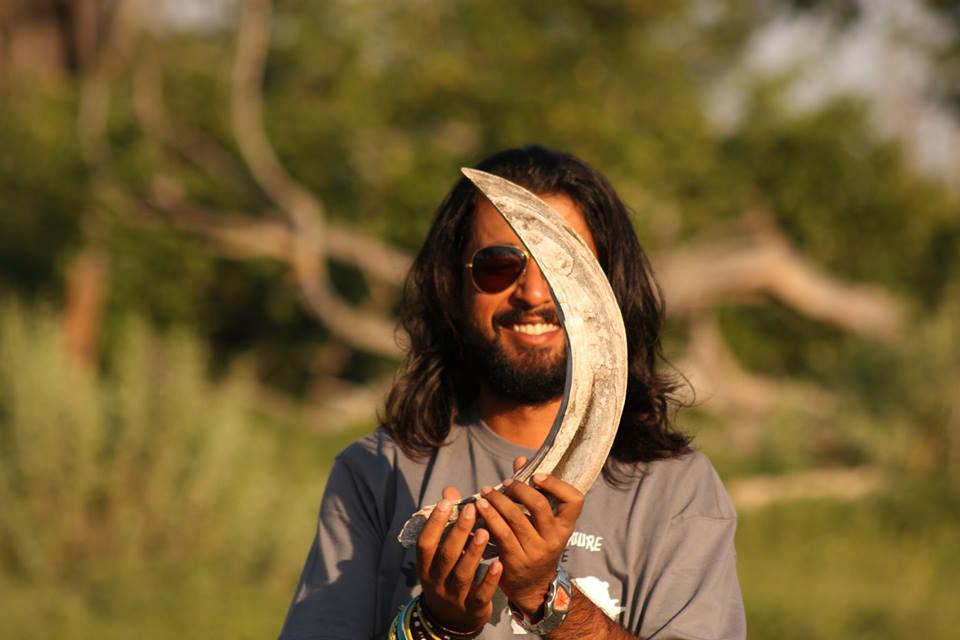 Abhijit​ ​Kang​ ​talks​ ​food​ ​fetishes.​ ​He​ ​is​ ​training​ ​to​ ​be​ ​a​ ​commercial​ ​helicopter​ ​pilot​ ​in​ ​South
Africa​ ​and​ ​visited​ ​Bangalore​ ​recently.​ ​Though​ ​he​ ​once​ ​lived​ ​in​ ​the​ ​city​ ​and​ ​worked​ ​here,​ ​he
thinks​ ​lots​ ​has​ ​changed​ ​since​ ​he​ ​left.​ ​For​ ​one,​ ​Bangalore​ ​is​ ​apparently​ ​more​ ​expensive​ ​than
South​ ​Africa.
Are​ ​you​ ​a​ ​foodie?
Of​ ​course​ ​I'm​ ​a​ ​foodie.
What's​ ​your​ ​favourite​ ​cuisine?
​ ​Asian.​ ​Thai​ ​and​ ​Vietnamese.
What's​ ​the​ ​last​ ​place​ ​that​ ​you​ ​went​ ​to​ ​in​ ​Bangalore​ ​that​ ​you​ ​really​ ​enjoyed?​ ​What​ ​did
you​ ​eat​ ​there​ ​that​ ​stood​ ​out?
Mamagoto.​ ​The​ ​food​ ​was​ ​good​ ​but​ ​I​ ​thought​ ​it​ ​was​ ​too​ ​expensive.
Ginseng​ ​also​ ​has​ ​good​ ​food.
What's​ ​your​ ​favourite​ ​dish​ ​of​ ​all​ ​time​ ​and​ ​where​ ​did​ ​you​ ​eat​ ​it?
My​ ​go​ ​to​ ​dish​ ​is​ ​always​ ​Thai​ ​Green​ ​Curry.​ ​But​ ​the​ ​best​ ​dish​ ​I​ ​have​ ​eaten​ ​is​ ​ostrich​ ​steak​ ​that​ ​I
had​ ​in​ ​Botswana.​ ​Medium​ ​rare​ ​with​ ​garlic​ ​butter​ ​and​ ​mushroom​ ​sauce.
I​ ​also​ ​like​ ​the​ ​Rajma​ ​Chawal​ ​my​ ​mom​ ​makes.
What​ ​is​ ​your​ ​least​ ​favourite​ ​dish?
I​ ​may​ ​be​ ​allergic​ ​to​ ​jackfruit​ ​but​ ​I​ ​still​ ​eat​ ​it.​ ​I​ ​like​ ​most​ ​foods​ ​as​ ​long​ ​as​ ​it's​ ​cooked​ ​well.
If​ ​you​ ​have​ ​to​ ​recommend​ ​a​ ​place​ ​to​ ​our​ ​readers​ ​what​ ​will​ ​it​ ​be?
Ginseng​ ​and​ ​Limelight.​ ​There​ ​is​ ​this​ ​amazing​ ​corn​ ​dish.​ ​It's​ ​either​ ​Thai​ ​or​ ​Chinese.​ ​It's​ ​some
batter​ ​fried​ ​corn​ ​kernels​ ​with​ ​vegetables​ ​and​ ​stuff.​ ​They​ ​obviously​ ​have​ ​some​ ​fancy​ ​name​ ​for​ ​it
that​ ​I​ ​can't​ ​remember.