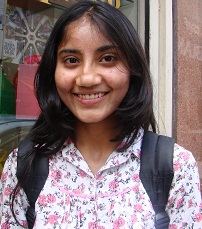 Sanjana
Student.
For some retail therapy which shop/mall would you go to?
At Commercial street whenever I feel like it.
Would you consider yourself to be a shop-a-holic?
Sometimes.
What do you usually splurge on?
Kurtis, because I need it for college.
Where do you get the best bargains in the city?
Commercial street, everything is available there.
Which is your favorite mall?
Forum in Koramangala, it's close to college so I go there all the time.