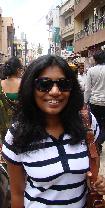 Tasha
SSJA, Portfolio Analyst
For some retail therapy which shop/mall would you go to?
Commercial Street, is one place I always come to.
Would you consider yourself to be a shop-a-holic?
Yes, definitely.
What do you usually splurge on?
Tops, mostly.
Where do you get the best bargains in the city?
Commercial Street, that's why so many people keep coming here.
Which is your favorite mall?
Phoenix is one of Bangalore's best