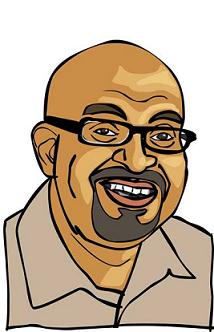 "There's a thin line between making fun of someone and being funny. I figured that the former is easy."
Popular cartoonist Balraj KN is a hoot and a half. His political caricatures and illustrations have been widely published and appreciated across media. He is also a copywriter having produced slogans like 'Cut costs, not trees,' and 'Pillow fights in public,' (which is an advertisement for a sale at a pillow store). The veteran spoke to Explocity about the travails of the trade.
Even as a child, Balraj was the aloof kind that sat in a corner drawing, while the rest of the kids were out on the streets playing. "I was passionate about drawing and sketching, but didn't know what to make of it," he admits. He studied sculpture at Chitrakala Parishath, also dabbling in the theatre arts. "I took part in a few college plays and realized that I wasn't good enough for theatre. However, I did take an interest in stage designing and theatre review."
There are glitches the artist faces when he puts pen to paper. "All the ideas that arise in your head won't be the best. Sometimes, a witty thought might be hard to put across in the form of a cartoon. With practice, one thinks better and grows consistently," he says.
Does he have to deal with 'cartoonist's block?'
Often, he says. "Deadlines solve that problem, though. You can't afford to sit around when you have to dish out something within a certain time frame."
What are the career prospects of a cartoonist, we wonder. "Every cartoonist ultimately wants to get published in a national newspaper. The competition is fierce, as a newspaper doesn't require more than a couple of cartoonists. And the subject is mostly politics, so the scope for creativity is limited," he observes.
To make a career out of cartooning is a challenge in itself, he admits. "You must either be exceptionally good, or you need to know bigshots in the publishing field."
However, artists can look around for other opportunities, he says. Balraj draws caricatures for IT companies, advertising agencies, etc. The artist's campaign against Sheila Dikshit's bad government kicked off with a ten foot-long cartoon illustration he made for the cause.
"The problem with Indian cartoons is that they're not appreciated outside of the county," he observes. "I once sent my works to an American website and they refused to publish it. They said they didn't get it." It could be the Indian English that we use, or simply the irrelevance of the issue to the outsider, he rues.
"We're so used to seeing snow and Christmas in popular cartoons. How often do we see Holi being played in our comics?" he asks. "We need to work towards improving our standards, and get out of our shells."